What is Makrolon? Why don't we use real glass?
Invented by Bayer German, the double flat polycarbonate sheet 'Makrolon', is almost clear like real glass, but not manufactured with glass components.
Then, why not use real glass? Definitely, real glass outstands artificial glass only if there is no limitation, which is its high price that hardly covers the costs. This glass alternative, Makrolon, has now become a superb choice for the following:
Building Renovations Added by a burdening weight, an original structures without the capacity to support glass elements will definitely affect the stability and safety. So, the renovation can cost more in the end. Makrolon is 8 times lighter, compared by actual size, and is now the most ideal solution for renovation works.
Glass Roof with Breakage Risks Areas with risks include those near big trees, windows of high-rise building or those with instant changes of hot or cold temperature or those with vibration caused by machinery. Even though there is an installation of tempered glass, which is the best security glass for roofing, risk of breakage remains. The only advantage is how it won't fall onto our head. Each tempered glass is prone to failing due to stress level caused by its residual compositions. Markrolon is 250 times more resistant to shocks than real glass. Chance of failing is zero. It is hence the most ideal glass substitute material.
Budget-oriented Skylight Budget-oriented skylight with utmost safety prohibits the use of single-layer glass up high due to the risk of injuries or death in case of failing. There is no exception even with tempered glass. Use of double layers of tempered glass is important to ensure broken pieces shall not fall down to hurt people. Still, expensive glass has the possibility to break, whereas double layers of tempered glass, which is 3-5 times harder to break, can horribly multiply the costs. For this reason, with the price that is almost similar to double-layer glass, but is 250 times harder to break, Markrolon has become the top glass substitute that can efficiently cut the construction costs as it helps to save the cost of supporting structures that weights 8 times lighter.
To conclude, all types of material have their pros and cons. There is no material that comes with no shortcoming. The choice depends on usage requirements and budget.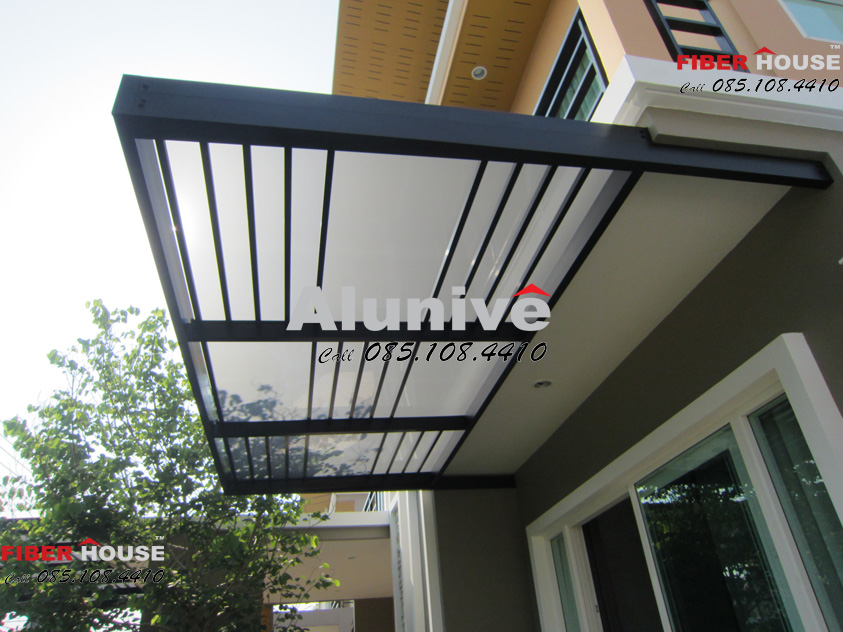 Sample of our installation of Makrolon Sheet 'Heat Block'
As the only glass substitute that Fiber House was among the first to use and has successfully pioneered in Thai market for over 5 years, Makrolon Sheet is currently the most suitable glass substitute for extension works. With the weight of 8 times lighter than glass and 2 times lighter than acrylic, depending on size, Markrolon offers optimum safety while not burdening existing structure. The overall length of 30 meters can be cut to serve actual uses and thus the sheet comes seamless. 100% no worries on leakage. High flexibility makes the sheet not prone to break from impacts. Markrolon Sheet features 20 times more impact resistance than acrylic and 250 times higher strength than real glass. Categorized as Class 1 Fire Rating for flame retardancy (Class 0 for concrete and Class 100 for wood, equivalent), Markrolon is capable of tolerating continuous temperature of 115 degree celcius. Having served as the only material to produce car lights that require high heat tolerance, Markrolon is tensile, but not scratch resistant. Markrolon specially suits the use on high position above human head, afar from physical exposure. Owing to its Elongation at Yield caused by high heat, installation can be sophisticated as a compensation of shrinking parts is required. Expertise is a must in regard to perfectly derive real-glass results. Just to pay half the price that undoubtedly sacrifices quality, there's now a cheaper choice called condensed poly sheet, which has become the top choice of many contractors. However, Fiber House only puts our trust in the original "Bayer" Makrolon. Despite of its ultra high cost, we prioritize finest quality above marketability.
Video showing the attributes of Makrolon Sheet's tensile strength and impact tolerance

Trademark of Makrolon by BAYER Germany, the product inventor who has continued their distribution of this superb material